I am rarely one to rave about a particular product. Especially when it comes to cleaning products. Honestly, I am usually one of those people that thinks they are all the same (I'm still convinced most of them are...), and I usually just buy the cheapest thing on the shelf to get the job done, or often times, I just make my own (what can I say? It's that "rocket scientist" in me...I'm a nerd).
About 9 months ago, I read about something called
Shaklee
on another blog. Shaklee is a company that has a variety of products, from household cleaning products to vitamins. One of the major things they use to promote themselves is that their products are all organic and very safe. Erin at
Healthy Branscoms
was doing a giveaway for a sample of the
Basic H2
concentrate...I entered...and I won!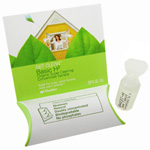 I got this little guy in the mail a few days later...
The sample I won was enough to make a bottle of window cleaner, a bottle of all-purpose cleaner, and I had a little left over that I used in the concentrated form to clean a spot on my carpet. It worked so well! I loved it!
I'll be honest...I'm not a super hippie-type person that thinks I have to buy everything organic. And don't get me wrong, sometimes I think a good old-fashioned bleach solution is the best option for cleaning some things (like the toilet). But I definitely do love a good product that works well that I can get for a good price. That is really what convinced me to purchase Shaklee. At the time, Shaklee was running a promotion where if you spent a certain amount (I can't remember exactly how much...I wanna say it was around $20?) on Shaklee products, you got a free membership. I had no idea what that meant at the time, but it basically means you can purchase items from Shaklee at a discounted price. I love discounts :) I decided to try out the Shaklee laundry detergent, some scour off paste, and a bottle of the Basic H2. And let me tell you...I have been more than satisfied with my purchase! I absolutely LOVE the Basic H2. I use it to clean just about everything (except the toilet, of course).
This is the 16 oz. bottle of Basic H2 which you can buy for $10.35 at the member price!
Now I know what you're thinking..."$10 for a bottle of CLEANER?! That's not cheap!" That was my first thought at least. But I bought that bottle in April, and it is still more than 3/4 full! I have made at least 2 bottles of window cleaner, countless bottles of the all-purpose cleaner (my roommate over the summer was potty training a puppy, and my current house guest has a 6-month old baby that spits up more than I have ever seen a baby spit up...I can't tell you how happy I am to have found Shaklee....seriously), and I have used the concentrated form more than a few times to get stains out of the carpet and clothes.
Speaking of the concentrated form...
My best friend from college just recently became a Shaklee distributor, and she had asked me a while back to do a review for her when I used one of my Shaklee products. Like I said, I use the all-purpose cleaner all the time...I really don't think to take before and after pictures. But last night I came home to this:
Why yes...that is GUM...ABC gum...smashed into my microsuede couch!!!!
I love my dogs. I love my dogs. I love my dogs....
Evidently, while I was Christmas shopping last night, my dogs found an old receipt that I had apparently used to dispose of my gum...I have no idea how, or where...but when I came home it was smashed into my light, tan-colored, microsuede couch that is just barely over a year old. Disgusting, I know. And normally, I would've probably freaked out. But I already knew I had something I could trust to get it out!
I have actually used the Basic H2 concentrate before to get gum out of the carpet in our truck (I still have no idea how that man of mine managed to accomplish getting gum in his passenger side floorboard, under the floor mat I might add...). And I use the Basic H2 all-purpose cleaner on my couch ALL the time when the baby pukes all over it. So I know it is safe to use on my couch - I know it will not damage it, leave a residue, or bleach/stain the fabric in any way....which is awesome!
Shaklee to the rescue!
I squirted a few drops on the gum, and started scraping away.
I know...this is gross...but this is what happens to the gum when it meets the concentrated Basic H2...
I was able to scrape all the gum off with my fingernail. It just balls up and scrapes right off!
Then I used a damp white wash cloth to get the remaining Basic H2 concentrate out of the couch.
Then I went to bed and waited for it to dry...
And here is what I woke up to this morning!
It's a miracle! You can't even tell where the gum was! How awesome is that? I was relieved that it worked so well, and my couch is safe and clean.
If you happen to be interested in trying Shaklee, I highly encourage you to do so! I can refer you to a FANTASTIC distributor :) Go visit my friend Missy at
The Domesticated Diva
and let her know you are interested. Something else that's really awesome that I'd like to share with you...Missy started selling Shaklee when she was pregnant with her son Caleb as a way to supplement her family's income once their beautiful little addition joined the family in September, and THIS MONTH, Missy is going to donate half of her Shaklee income to a family in need. Help her meet her goal to make another family's Christmas season a little brighter! :)